IT Support Exeter, Devon
Fixed priced plans help you plan & budget while keeping your IT systems regularly supported and maintained.
"Your IT Man has been managing our IT systems since its inception. Simon and his staff always helpful, courteous and patient and have often gone above and beyond for our business. They always have the answer we need, often knowing what we need before we do. I would not hesitate to recommend Your IT Man to anyone looking for a fantastic IT business."
Deborah Edwards
Baker Wilkins & Smith Limited, Reigate






Supporting businesses of all sizes in and around Exeter, Devon since 2011.
Frequently Asked Questions
IT Support In Exeter
Your IT Man are extremely proud to provide local businesses throughout Exeter with tailored computer support, maintenance & guidance at unbeatable fixed priced monthly rates.
Your IT Man gives SMBs the opportunity to take ownership over their IT systems and ensuring that key requirements such as cyber security & disaster recovery are fully managed.
Tailored Monthly IT Support Plans
As an MSP, we recognise that not every business is the same and therefore we provide tailored IT support plans to all our customers, meeting their specific needs. Our experience taking enterprise level products and providing them in an easily managed, tailored package for businesses of all sizes, has enabled us to build long term relationships with our clients. Understanding the technologies and opportunities within them, gives us the expertise to work along with you, implementing the best IT solution for your business. Your IT Man has built a reputation for providing a industry leading IT Support service in the county.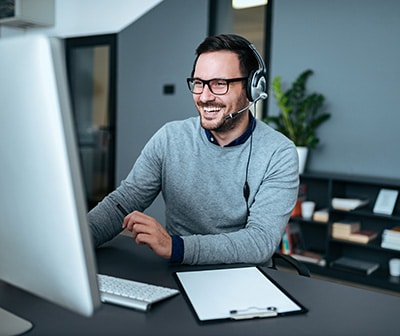 Proactive Support Not Reactive
Unfortunately, most companies providing IT support services in Exeter, wait for issues to occur before taking action to fix them. A phone call from the client making them aware of the issue is what's required. This rather outdated reactive approach, requires costly on-site support technicians and can have serious impact on the productivity of the business, not to mention the financial implications.
To combat these issues, Your IT Man setup a trusted proactive IT support service in Exeter. We use sophisticated monitoring systems to provide a proactive service and prevent problems before they have occured. Our supported clients have peace of mind knowing their IT systems are monitored and looked after properly, fully backed up and secured from cyber criminals.
Managed IT Backup Exeter
The scary statistic that 21% of businesses unexpectedly experience data loss due to events out of their control, means that data loss should be a concern for all business owners. Loss on business productivity and income means that having a secure storage backup solution is essential for any business.
Your IT Man provide a fully managed cloud based backup solution which can be remotely accessed via an encrypted connection, giving peace of mind to business owners. You will never have to worry about a natural disaster, system crash or accidental error again!
Complete Vendor Management Service
Most businesses require several different software programs and systems, each potentially causing issues and requiring a level of support. Unlike many other IT support providers, Your IT Man prides itself on being a one stop shop for managed IT solutions. There's no need to keep track on who to call for what problem. Our remote support team will manage all the IT systems and software in your business, giving you a hassle free solution.
We work with all vendors and can manage all of the components of your IT systems, liasing with the right vendors on your behalf. Unlike other IT companies, we don't charge any extra for this service, we include vendor management as part of our contract, so there's no nasty surprises. If you want to learn more about how Your IT Man can save you time and make your business run more efficiently, give us a call today and speak to one of our trained technicians.
Why Choose Your IT Man  
Since 2011, we've been working hard to provide affordable IT services in Exeter and surrounding areas to businesses large and small. We are pleased to report that our response times are faster than average and continue to improve.
If you're interested in any of our services for your business, please don't hesitate to give us a call or schedule a 15 minute chat. One of our specialist technicians will be happy to answer any questions and help you understand about the IT support we offer.